Guilt vs. Gratitude
Which is Winning in Your Life?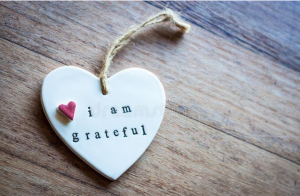 Happy 2021!
Never before has "Happy New Year" meant more.
2020 will go down in my lifetime as one of the most challenging years ever. I don't need to list the reasons. We all know why.
Regardless of what we are bringing into 2021, we get to start anew.
Let's approach 2021 with a renewed spirit-one of gratitude.
Let's leave the guilt and grief behind.
You with me?
Guilt
Guilt is a harsh and powerful emotion.
I see it almost daily on the faces of clients, family members and the caretakers. I often hear it in the stories they share, many filled with regret.
Among other ways, guilt shows up as anxiety, frustration, humiliation, anger, depression and low self-esteem and self-worth.
It has consequences on our bodies and our minds.
Ask yourself
Are you beating yourself up?

Do you expect too much from yourself and others?

Are you afraid to say, "No"?

Do you feel regretful about how you've used your time, especially "family time?"

Have you caused divisiveness in the family?

Did you see your family becoming fractured, yet allowed it?

Did you make 'mistakes' or unpopular decisions earlier in your life that you can't seem to shake off even today?

Did you plan special events and intentionally omit certain family members? Have you explained yourself, or apologized?

Are you still allowing others to shame you for yesterday's choices?

Do you do things today simply because you still feel guilty?

Are you guilt ridden?
Now is the time to honestly answer these questions and own up to the responses. Acknowledge any wrongdoing. Make amends, if possible, and move on from one G word-GUILT- to living a life in 2021 of another G word- GRATITUDE.
Gratitude
Simply put, gratitude means being thankful or grateful.
Gratitude is a much healthier approach to your life and your interaction with others, including your family.
Choosing to live a life of daily gratitude also effects our minds and bodies, but in positive ways.
Researchers have found living a life of gratitude improves our physical and mental health. It even allows us to get a better night's sleep. Who doesn't want this?
7 Scientifically Proven Benefits of Gratitude | Psychology Today
In 2021, I encourage you to think about gratitude and its place in your daily life.
Here are 5 simple ways to start practicing gratitude in your life
Awaken each day acknowledging one thing you are thankful for. Write it down in a journal. If you're not a writer, doodle or draw it. Let the journal be a source of comfort on tough days as you re-read your entries.

Write notes of appreciation to those who've made a real positive impact on your life.

Volunteer. Making time to help others is a wonderful thing. NOTE: Keep in mind that sometimes we need to help ourselves too without feeling guilty. Self-care is okay.

Make a list of people who really matter in your life. Renew friendships. Commit to spending time with them. NOTE: This is truly one of my favorite things. An hour with friends you haven't seen in a long time is a wonderful recharge. Sharing what life has given us, helps. Humor also helps. There's no guilt in laughter!

Go outdoors. Appreciate the beauty of nature. Awaken your senses. Live in the moment and take it all in! Maybe even capture a few photographs to remember the awesomeness of your outdoor adventure.
My Insight
My career at Craft LifeStyle Management has allowed me to work with untold numbers of clients and their families as they transition from one stage of life to the other.
If we've done our jobs right, we are sort of extended family when our role is completed.
We hear the stories. We see the interactions. We feel the sorrow and the joy, and always, the loss.
Those who thrive through transition approach it with a deep sense of gratitude for reaching this milestone. They acknowledge and appreciate their support system, be that family members or others.
They awaken daily recognizing what a gift it is to be present and to share in the joys of the day.
This is what I wish for you in 2021-a year of living with gratitude, peace and joy.
If I can assist you or a family member with a life transition, contact me. Contact – Craft Lifestyle Management (craftlifestylemgt.com)
©January 2021. All rights reserved.