Why to Whip Out Pen and Paper in April
April is National Card & Letter Writing Month
We live in a multi-tasking, electronics communications, distracted world. Who doesn't scroll through social media or the Internet while watching TV or resting in bed? Or, send a group email or text to quickly communicate?
We've become programmed to believe that if we aren't always doing or going something bad will happen, or we will miss something. Competition will get ahead of, or ruin us. We'll miss the latest sports or news (or gossip) update. Worse yet. No one will know our thoughts, opinions or concerns in a short-hand, emoji-like way.
I'm here to suggest we pause a moment.
Let's bring the focus back to relationships and communication.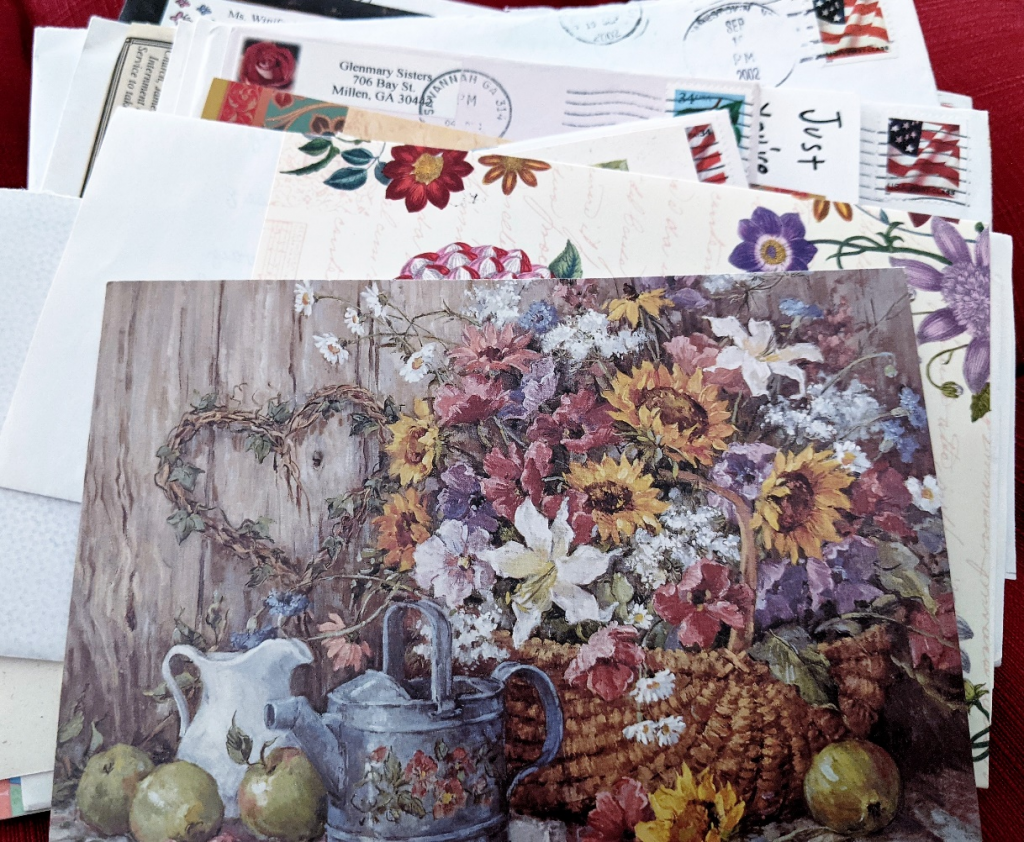 April is National Card and Letter Writing Month. That's right. The U.S. Postal Service officially designated April as National Card and Letter Writing Month in 2001 "to raise awareness of the importance and historical significance of card and letter writing." Yes! That old-fashioned, heart-warming thing that rarely appears in one's mailbox anymore: a handwritten letter or card.
Card and letter writing requires a pen, a nice piece of stationery or a card, a stamp, an envelope, and sometimes a sticker. More importantly, it requires focus and attention.
Sending a note or card means you paused your life. You slowed down enough to capture your thoughts and feelings and reflect on the love and appreciation you have for another.
Receiving handwritten letters screams, "Somebody cares!" A handwritten letter, rather than an email or text, is written specifically for the receiver. It creates an intimate exchange.
What Letter Writing Does
Awakens often dormant penmanship and writing skills.
Records moments in history.
Crosses time. Unique handwriting instantly helps one recall the person who wrote and sent the letter and the feelings upon initially receiving the correspondence. It allows us to reminisce and be comforted.
Leaves a legacy.
Becomes a story-telling time capsule.
Marks where our lives have been and with whom we've shared them.
Sentimental Treasures
Notecards and letters are the sentimental items that are most often kept and treasured. They are re-read and cherished. Usually when Craft LifeStyle Management is transitioning a client from location to location, these are the boxes or ribbon, or rubber banded items held dearest to the client's hearts. They mean something, as do the words conveyed within.
At Craft LifeStyle Management we feel the same way. We treasure each and every heartfelt note of gratitude and appreciation we've ever received. We save them and look at them. They mean something.
To Do
During this month, I encourage you to make at least one person's day by pausing the busyness of your life and writing that person a heartfelt letter. Maybe you write to a grandparent or parent. Perhaps it's your child or grandchild. Or a teacher or professional who made a profound positive impact on your life. Let them know how grateful you are that they are in your life. Let them know you think of them often.
Feels Good
Emailing, texting and social media are here to stay. However, nothing replaces the enjoyment and sentiment of a handwritten card or letter. It just feels good getting one. Honestly, it feels good writing one too.
Ways to Get Involved
Cards Plus Team – Soldiers' Angels (soldiersangels.org)
Letter Writing Team – Soldiers' Angels (soldiersangels.org)
Letters Against Isolation | Write letters to Self-isolating seniors
THE BIG IDEA — Write_On (writeoncampaign.com)
What cards and letters have you kept? Why?
In April, whose day will you brighten as they open their mailbox and discover a handwritten card or letter?
©April 2022 Craft LifeStyle Management.
All Rights Reserved.